In order to use this feature, you need to have the OS Platform set to 'Android' or 'iOS'.
In the Form Designer of TracerPlus Desktop, select a Field control on your form you wish to set this keyboard option for, then select an option from the Hide Keyboard option in the Selected Control Properties.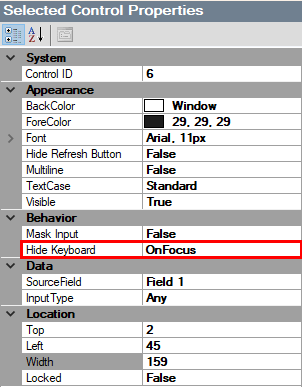 By default, this is set to Never which means the keyboard will always pop up when accessing this field via GoTo or tapping into it.
Setting this to on OnFocus will only pop up the keyboard if you explicitly tap into the field.
Setting this to Always will never pop up the keyboard for this field.